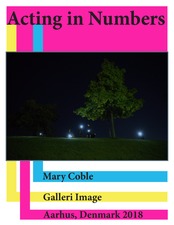 Acting in Numbers Zine, 2018
This zine was made on the occasion of Acting in Numbers, a solo exhitbion by Mary Coble at Galleri Image, 2018. Uniting photography and performance, the works in the exhibition focus on iconic symbols, bodily gestures, chants, and signals used in political protest and as forms of resistance. Photography and performance can offer distinct temporalities that are urgent for capturing, sharing and activating often ephemeral signs of defiance.


---
Still Deferred Zine, 2015
Introduction to Still Deferred
DON'T BE SUCH A WUSS. Give blood.
BE A HERO. Give blood.
BE HUMAN. Give blood.
These are examples of slogans from blood donation campaigns. Others are: 'Drops for you, life for them' / 'Good people give' / 'Together we can save a life' / 'All types needed' / 'Find the hero in you. Give blood 3 times a year'. Except that, not everybody's blood is wanted and not just anyone can give, save a life or be a blood donation hero. This is what Still Deferred is about.
As part of my ongoing inquiry into discriminatory practices against the queer community, Still Deferred addresses the targeted exclusion of men who have sex with men, or we could broadly say: gay men, from blood donation (in the United States and abroad). This is a political deferral based on homophobia and fear rather than on scientific fact, which has been argued time and again by medical researchers and gay rights advocates alike. This publication offers examples from that debate as well as documentation of my performance Deferral, which also functioned as a contribution to the discussion.
---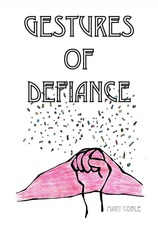 Gestures of Defiance Zine, 2015
"Gestures of Defiance" Zine, 2015
Edited by artist Mary Coble unites two strategies of resistance and gestures of defiance: The raised fist and the act of protest through glitter bombing. This zine is a continuation of the "Protest in Pride" Zine from 2014. "Gestures of Defiance" was made as part of the exhibition "Gestures of Defiance" at the Vita Kuben in Umeå, Sweden and handed out for free both there and at the Rapid Pulse Performance Festival in Chicago, Illinois. This publication holds a collection of fist symbols from the 1960s to today as well as an introduction to the fist and glitter as gestures of defiance by Mary Coble. Two commissioned essays further contextualize the raised fist iconography: Lincoln Cushing provides a historical overview of the clenched fist symbol, and Mathias Danbolt offers a queer political argument for raising our fists today in a piece written on the occasion of Coble's Protest in Pride. In addition, a short, reprinted text by Hadassah Damien describes how queer sexual politics and sexual practice intersect in the symbol of the clenched hand. Coble has also compiled a selection of glitter bomb examples, mapping out high publicity glitter bombings together with a contextualization of the action.

---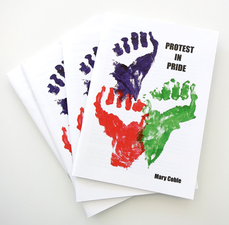 Protest in Pride Zine, 2014
"The raised fist indicates that a pride march is initially a social, activist movement that claims space for a community and creates visibility to the otherwise unnoticed. This publication celebrates this fact with a collection of fist symbols from the 1960s to today accompanied by two specially written essays: Lincoln Cushing provides a historical overview of the clenched fist symbol, and Mathias Danbolt offers a queer political argument for raising our fists today. Finally, a short, reprinted text by Hadassah Damien describes how queer sexual politics and sexual practice intersect in the symbol of the clenched hand.

As we march for human rights we need to remember everybody in social struggle – including the ones who do not have the privilege of being able to publicly raise their fist in protest."

-Except from the introductory text by Louise Wolthers and Mary Coble


---
---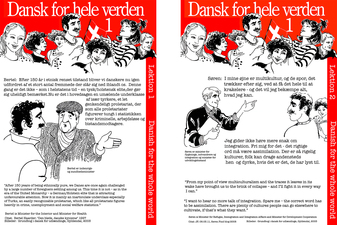 Dansk for hele verden (Danish for the whole world) Posters, 2011
Collaboration with Louise Wolthers