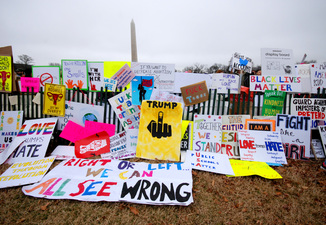 WE ARE HERE 2017-18
The photographic installation We are here is based on traces from the Women's March on Washington held in Washington, DC on January 21, 2017. This was an intersectional march organized and led by women that occurred the day after Donald Trump's presidential inauguration. This work reflects Coble's meticulous, on foot, documentation of the fences surrounding the White House as marchers piled their protest signs around the parameter. The individual pieces of We are here can be moved around in the space, exchanged for a donation and potentially reactivated in another context.
All donations (3500 DK) from We are here exhibed at Galleri Image (2018) were given to LGBT Asylum in Denmark. There are over 260 images mounted on found wood. The installation varies in size and quanity each time it is produced.

---

PERFORMING DEFIANCE 2015
Commissioned series of "performance photographs" by the Danish Statens Kunstfond.
These photographs were shot onsite, by photographer Clare Britt, on the occasion of the live performance "Performing Defiance" as part of the RAPID PULSE INTERNATIONAL PERFORMANCE ART FESTIVAL, Chicago, Illinois.
This series of 5 images were created by artist Mary Coble.
---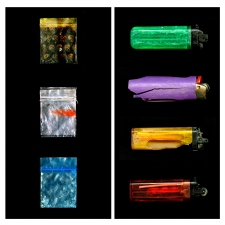 CRACK BAGS AND LIGHTERS 2012
If looked upon critically crack bags and lighters have the potential to point towards crucial issues of abuse, poverty, violence and racism.
The series was commissioned as part of the International Photography Festival in Odense, Denmark.
---
---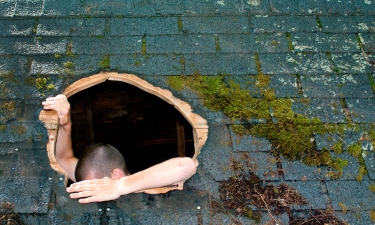 FROM ASCENSION/IMMERSION 2011
Collaboration with Blithe Riley
---
---
---
---
---
---