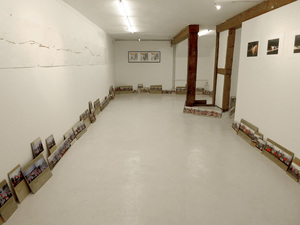 ACTING IN NUMBERS at Galleri Image, Aarhus, Denmark, 2018
Acting in Numbers was a solo exhibition at Galleri Image, Aarhus, Denmark.
Uniting photography and performance, the works in the exhibition focus on iconic symbols, bodily gestures, chants, and signals used in political protest and as forms of resistance. Photography and performance can offer distinct temporalities that are urgent for capturing, sharing and activating often ephemeral signs of defiance.

Works included Performing Defiance (2015), Timeline of Disruption (2016) PULSE (2016), We are here (2017-18), Pulsing (2018) and One Movement (2017)

---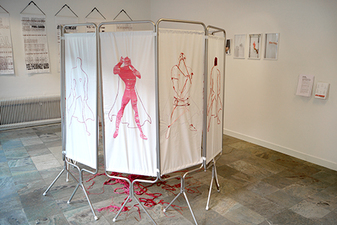 STILL DEFERRED at The Center of Arts and Education/Kontfrämjandet i Västerbotten, UMEÅ, Sweden, 2015
The exhibition "Still Deferred" is a continuation of the live performance "Deferral" from 2013 at the Corcoran Gallery of Art where artist Mary Coble along with 11 gay men spent 4 days addressing the then United States discriminatory policy that deferred or refused blood donations from men who had had sex with men after 1977. While a more recent draft of the guidelines from the US Food and Drug Administration as of summer 2015 now states that a man should be barred from giving blood only for one year after he has had sex with another man. This has been lauded as a successful step towards gay rights yet Coble insists that these protocols still perpetuate and represent a stigmatization and institutionally supported homophobia. Gay men are still deferred.
This exhibition was during Umeå's 'Pride' celebration and included a workshop "Raise Your Fist" that was an evening of talking, thinking and making centered around the image and power of the raised, clenched fist. The group marching together the next day during the Pride March with banners made during the workshop.
---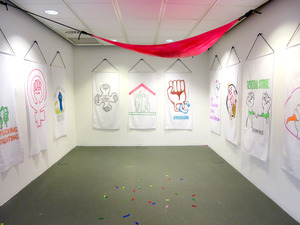 "GESTURES OF DEFIANCE" AT VITA KUBEN, UMEÅ, SWEDEN 2015
Focusing on queer strategies of resistance with Gestures of Defiance attention is on the raised, clenched fist as a key symbol of protest. Appropriating logos, posters, pamphlets and banners from various contexts of opposition, the artist creates a visual archive of resistance, while reclaiming the raised fist as a sign of solidarity with those who are not in a position of privilege or visibility today. For the recent LGBTQ festival in Gothenburg ('West Pride') Coble collected hundreds of fist prints on fabric from passers-by's as well as the queer community, and these prints will also be part of the installation. Finally another historical queer symbol is manifested in a pink latex triangle. It will be suspended in the space holding the potential threat of a glitter bomb.
---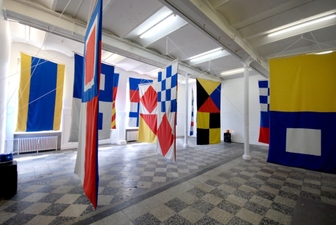 "MANEUVERING" AT OVERGADEN INSTITUTE OF CONTEMPORARY ART, 2012
"Like a ship, the physical and social body attempts to mark out and follow its own route in relation to society's norms, the details of the landscape, and the signals of others. Hardly surprising that it can be difficult to maneuver"
-From "Signals, Details, Manuals", Louise Wolthers on the exhition Maneuvering